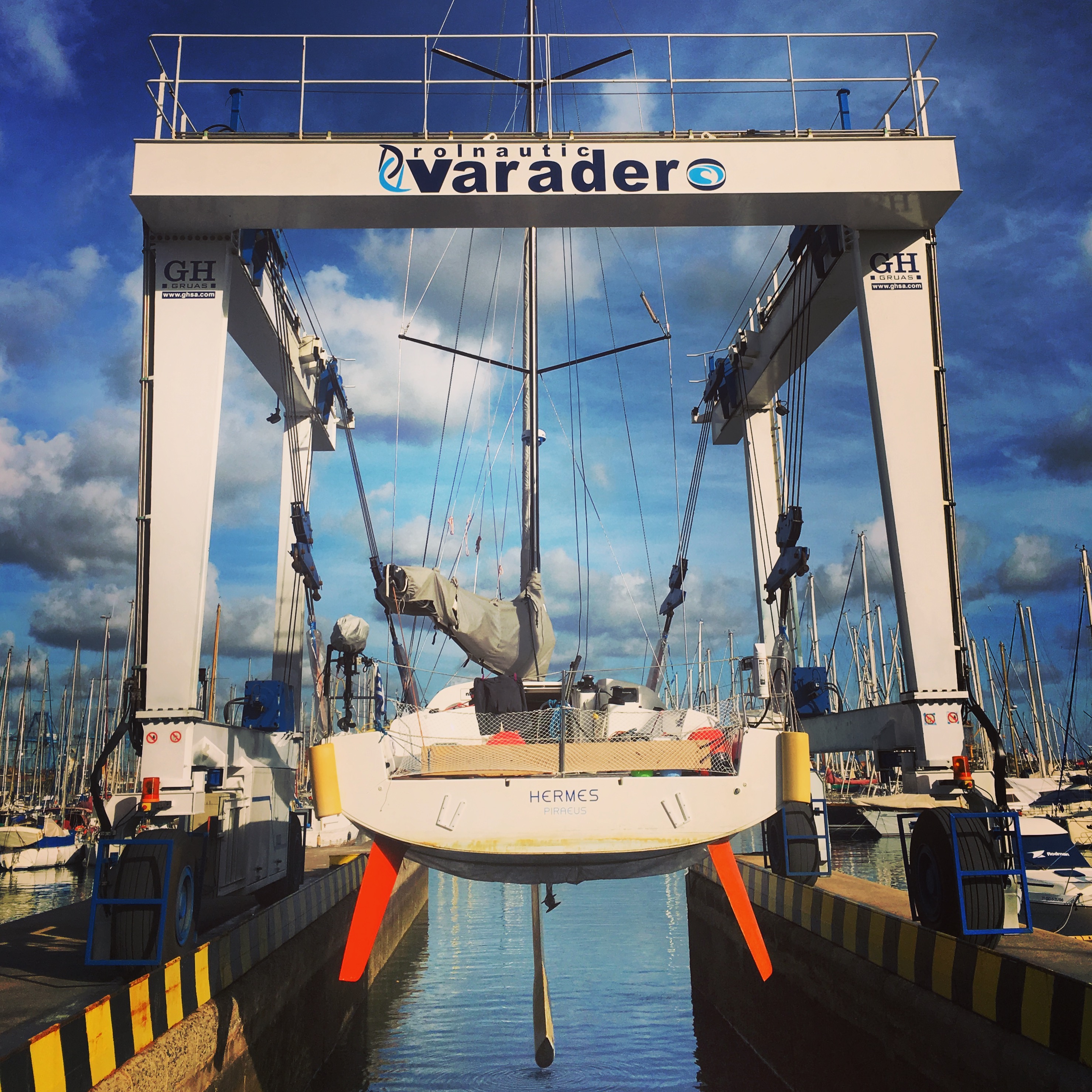 As sailors, we know you cannot change the conditions; you have to adjust to them. It may be as simple as adjusting the sails, but sometimes you have to alter your course completely. And alter our course is what we had to do.
We started on our new adventure with a new boat, Hermes, and the intention to join the ARC World Rally in January 2017. The timeline was tight, but we were determined and fired up — thinking that "if there's a will, there's a way" and we would make it work. But we soon discovered that the only one who was in rush was ourselves, and Hermes wasn't as ready to sail around the world as we were.
In two short months (or long, depending on perspective), we took a former Mediterranean cruising charter vessel and nearly doubled her lifetime miles. We pushed her through 60+ knot storms and beam-on treacherous seas, when she was used to hiding safely in port in such conditions. Sailing wise, she handled it like a champion. But her internal systems grew weary and together they revolted in a resounding "HOLD!" that we could not ignore.
While Hermes powered through 3m swells upwind, down below she began letting the sea in through ill-prepared seacocks. When we prepared for an emergency stopover to fix her thru-hulls, hoping for a quick turnaround, the engine gave out and told us: "not so fast." Okay, it was time we started listening and slowing down. We came to terms with that fact that Hermes was a great sailboat, but her systems simply weren't ready for a circumnavigation. And we weren't ready to be stuck in a remote island when the next one decided to fail on us.
So we are closing 2016 with very different plans for 2017 than we had originally intended. But our altered course won't take us the wrong way, it is simply taking us on the longer way around. Our initial schedule had us competing in the 2017 ARC World Rally and then spending 2018 doing the Caribbean racing circuit. So why not swap the two?
A simple solution, which bought us time and relieved Hermes (and ourselves) of the pressure of circumnavigation. But again, it's a race against the clock to get ourselves now prepared for a serious racing circuit. Regardless, it is a lot easier to work through our growing pains in more familiar waters and now we have a month to prepare Hermes for her first ocean crossing.
We had a lot of high expectations for this boat and our new venture, but as a good friend and fellow sailor said to me, "The key to being pleasantly surprised by life = low expectations." Tasha Hacker of S/V Cheeky Monkey – Chase the Story, knows a thing or two about setting big goals and being new (and old) boat owners, so it is with her sound advice that we take on 2017 with no expectations.
Hermes has won races in her past, but this is a different crew and different territory. We have won races in the past — but again, different boat, different crew, different territory. All that we can do is expect the unexpected, and take on 2017 with the best intentions and knowing that conditions will always change… and all you can do is adjust your sails.
Check out our Caribbean Race schedule below and be part of Ocean Racers' first Caribbean regatta season. You can expect at least one thing: an adventure!!
Caribbean 600  |  Heineken Regatta  |  St Thomas Regatta  |  BVI Spring Regatta  |  Les Voiles de St Barth  |  Antigua Sailing Week  |  Antigua-Bermuda America's Cup Race