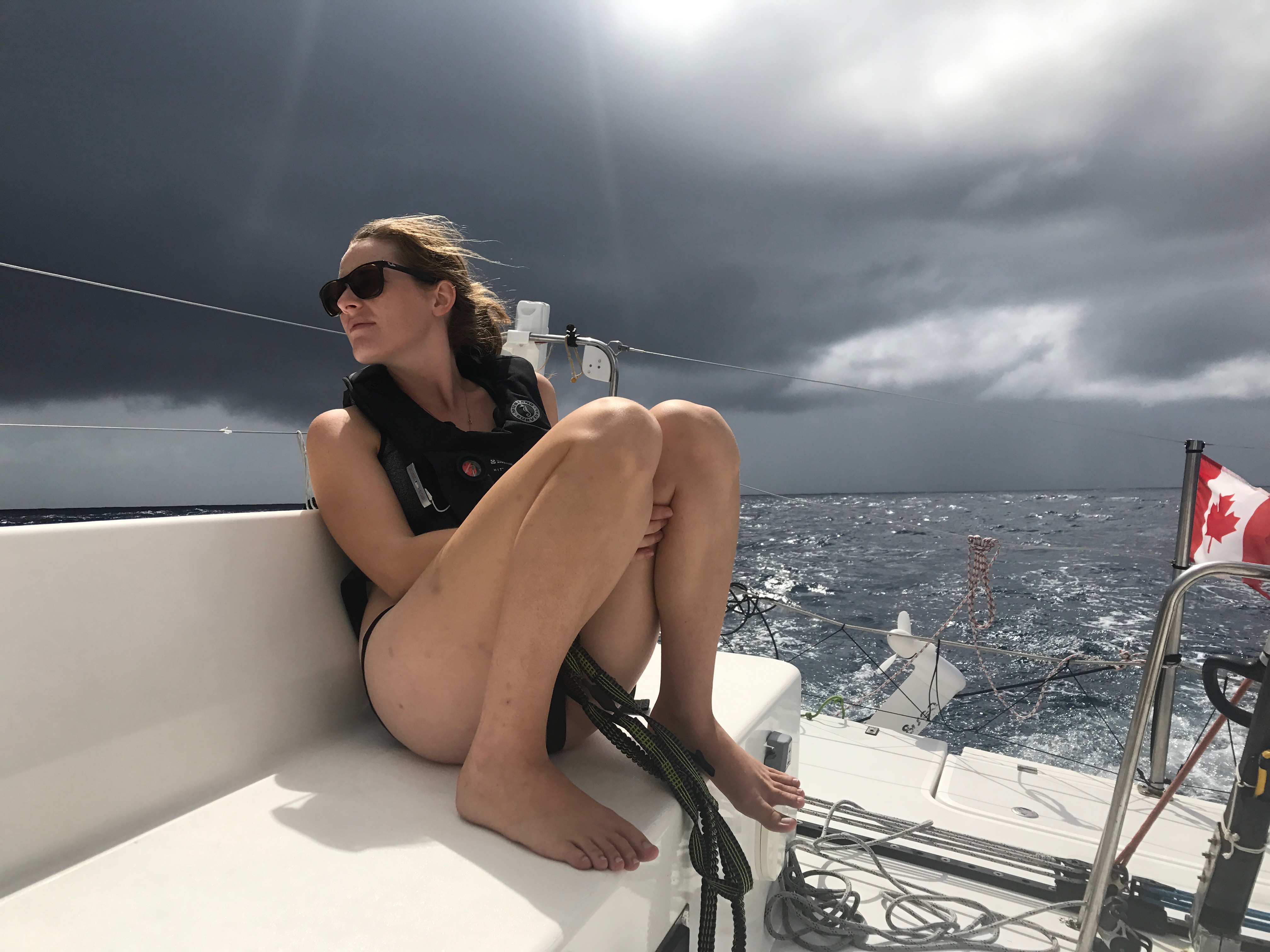 Destroyed spinnakers. Mast track failure. Wind holes. Casualties. These are the kind of things we can expect in the last 100 NM of any offshore passage, and the longer seem to provide more severe sentences.
Sure shit happens at anytime offshore, but there is just something about the last 100. It always takes longer than expected, and there is often some altering event that humbly reminds us we are still in Neptune's territory.
Our first Atlantic crossing on our Pogo 12.50 was double handed, and everything had been going smoothly until… we hit the 100 NM mark. It was 9 PM and Morgen was coming on watch to drive as our auto pilot and wind instruments were struggling for some reason. Just as I was stepping down below, I feel the boat tip oddly and next thing I know our A5 (Kickaboo) has hourglassed itself around our jibstay.
We tried easing the halyard and releasing the tack to unsuccessfully unwind it; but ended up using lines, halyards and nearly Morgen himself at 3 AM to wrap up these vicious kite pimples that were bulging off our forestay. We managed to limp into Antigua the next day just after sunset, and by 9 PM (24 hours later) we had our kite unwrapped from the top down on anchor in English Harbour. We made the mistake of making breakfast plans on land when we hit the last 100 NM the night before… but we were lucky to just catch last call for the kitchen at Cap Horn that night.
Why the last 100?
Do we get too comfortable? Are we dazed by the promise of land and check out too early? Or perhaps it is land that is the troublemaker, and sailors should just avoid it at all cost.
Whatever the reason, disaster in the last 100 is usually manageable. Our proximity to land and the end of our journey gives us the comfort but also gumption to go on. If we weren't within the last 100, we may have not even made it at all.
The last 300 NM of our recent trip from Fort Lauderdale to Antigua were pretty bad — making negative VMG just trying to tack around the squalls that like to congregate around the leeward islands. But the last 100 were the worst.
We spent the majority of our 1000 NM upwind passage through the tradewinds at Reef 2 with the J2. Since we were again sailing double-handed and this was a mere delivery, we were being quite conservative throughout the journey and this was a safe and comfortable sail combo. We had just entered the last 100 and were dodging squalls off of St Barths, struggling to find the ideal tack that will take us generally in the right direction; and hopefully not directly into hell.
After bobbing through the last "squall" with R2J2 that packed a monstrous 14 knots of wind, I decided to shake out a reef and take on the next squall with one less. By the time I was easing the halyard to tuck that reef back in, the wind had gone from 20 knots to 30 and ripped out a piece of our mast track with its brash force. Ping ping ping ping ping… all of the track car ball bearings hit the deck as this situation went from bad to worse.
We bore away as the squall rattled through, Morgen fixedly held the pieces wishing for extra limbs, and we attempted to put together a functional mainsail. A sail tie and our cunningham strapping back the reef 2 ring was a pretty decent jury rig, and since it was just the last 100, we decided we could make it to Antigua as is.
Now I definitely will not blame Antigua for this trend, the last 100 curse is a near guarantee. A giant high plagued the last 40 NM of the 1000 NM Antigua-Bermuda Race, forcing us to make the tough decision of motoring or drifting for days. We've also had knockdowns, kitemares, gear failure, squalls, storms, unforgiving highs and lows that make the last 100 the toughest and seemingly the longest miles.
I'm not sure what the solution to the last 100 situation is exactly. I suggested that we just set our final waypoint 100 NM further than our destination, so we never do the last 100. 😏
But in all honesty, it could very well be a mental solution. We can get so consumed by the end of our journey that we lose sight of our mission in front of us. We should be sailing the last 100 the same as the first 100 — with equal or exceeding energy, attentiveness, and enthusiasm.
And that's the hardest, and most satisfying, part of conquering the last 100.

Jury rigged main lashings on our Pogo 12.50 Hermes. Mast track separated from rig with batten car attached during a squall in the last 100 NM of our journey from Fort Lauderdale to Antigua.