Hermes - Pogo 12.50
Hermes is a Pogo 12.50 -- a racing cruiser equipped for circumnavigation. Designed by Finot-Conq and built by Pogo Structures in France, the Pogo 12.50 is modeled after the round the world race boat open 60 and shares the same hull as the Class 40 racer Pogo40S2.
Packed with speed and stability, the Pogo 12.50 does not sacrifice comfort for performance. Equipped with 3 private cabins, a spacious cockpit, full galley, interior & exterior hot showers and a lifting keel to reach shallow anchorages, Hermes is ready to take her crew around the world with racing speeds and cruising comforts.
Imagine yourself surfing 10 to 15 knots with ease, pushing yourself and the boat to top performance… chasing 25 knots -- the current record on the Pogo 12.50! Hermes is perfect for single sailors or a full family crew with berth choices or entire vessel options for up to 7 guests.
Sail around the world on one of the top performance cruisers on the market. The Pogo 12.50 was awarded "European Yacht of the Year 2012" in the category of "Performance Cruisers" and in March 2015, Hermes was the winner of the Hydra race in both real and corrected time!
Explore all of our adventures on Hermes, the Pogo 12.50.
Pogo 12.50 
By the numbers 
| | |
| --- | --- |
| Technical Specs |   |
| Length overall | 12.50m |
| Max beam | 4.5m |
| Draft - Lifting keel  | 3.0m/1.4m |
| Light displacement | 5.5t |
| Mast/Boom  | Carbon  |
| Bowsprit | Carbon, retractable |
| Steering system | Twin rudders, Tiller |
| Motor | Volvo Penta D1-30 HP |
| Propeller | 2-blade folding |
| Navigation Category  ISO 12217 | A – unsinkable |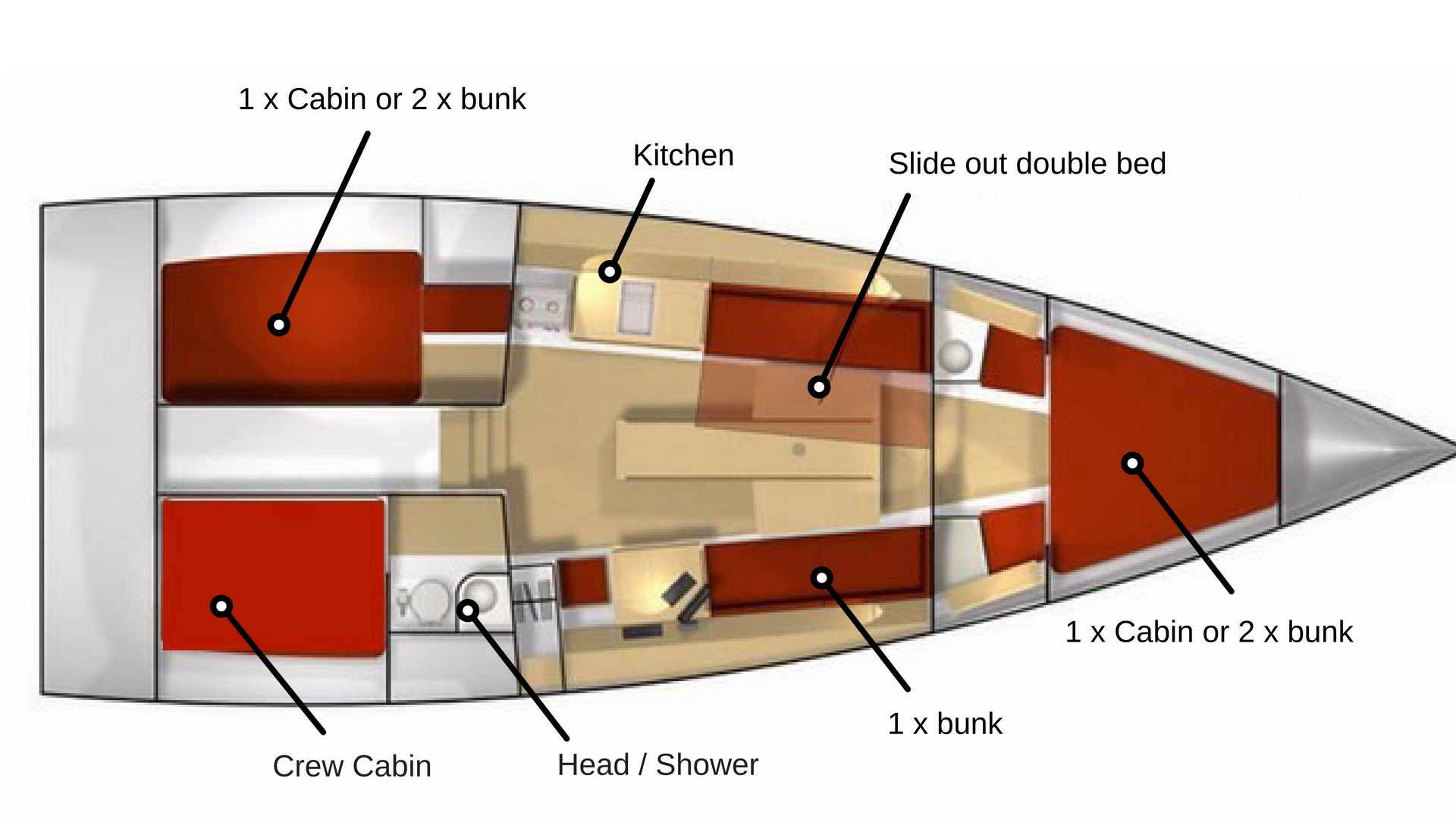 | | |
| --- | --- |
| Interiors  |   |
| Max Occupancy | 10  |
| Double cabins | 3 |
| Single bed | 1+1 folding to double |
| WC + Shower | 1 |
| Kitchen  | Double burner/Oven |
| | |
| --- | --- |
| Sailplan: | |
| Mainsail Carbon XDrive* | Square top 75 m² |
| J1 Carbon XDrive* | 47 m² |
| Staysail on removable stay | 27m² |
| Asymmetric spinnaker A2* | 155 m² |
| Asymmetric spinnaker A3* | 140 m² |
| Asymmetric spinnaker A5 | 120 m² |
| Fractional Code 0* | 100 m² |
New Sails 2018*