2019 Antigua - Bermuda Race
May 6-17, 2019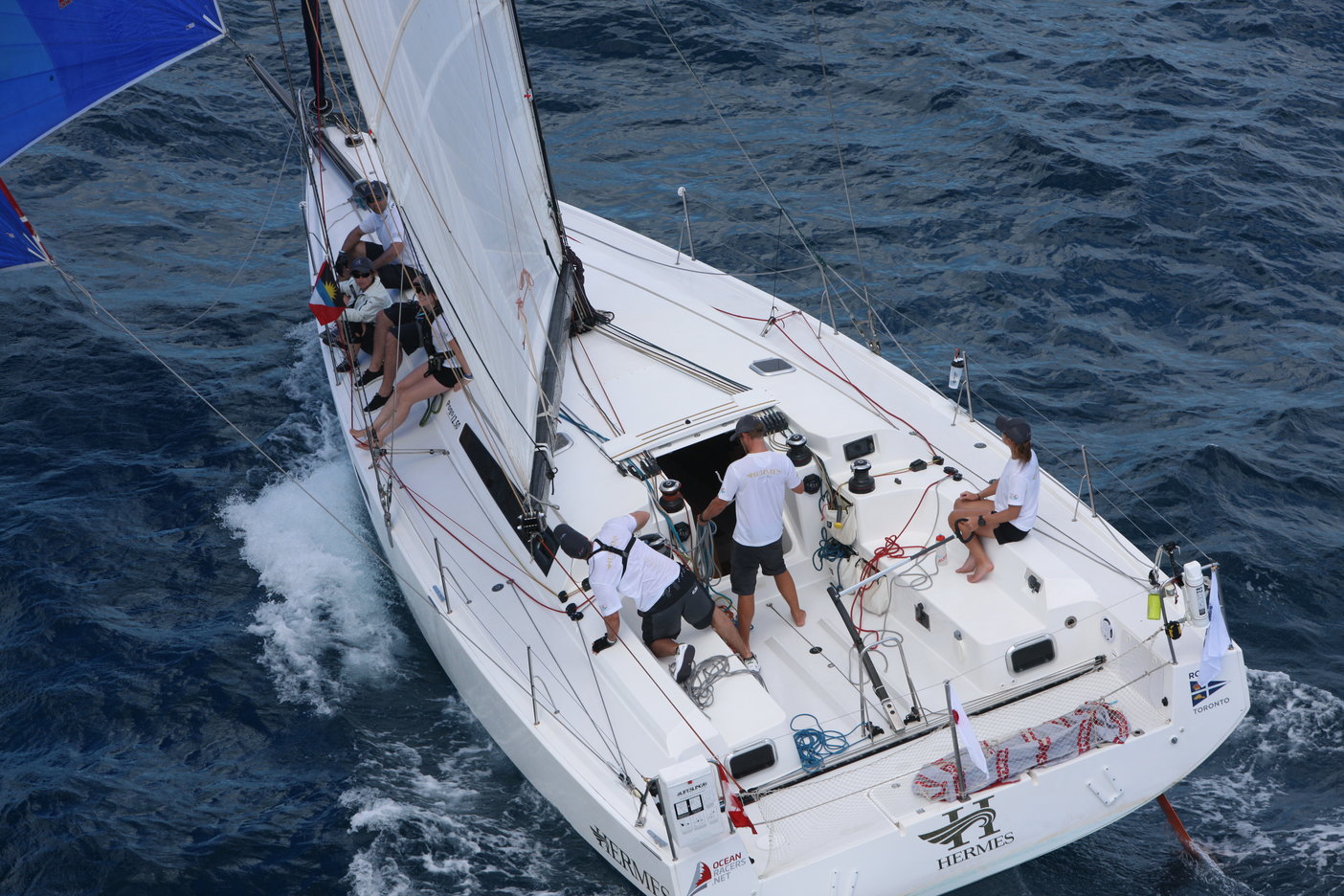 Closest arriving airport: Antigua International  (ANU)
Closest departing airport: L.F. Wade International - Bermuda (BDA)
May 6-17, 2019 
Miles logged:  950Nm

Training Day - May 7
Dock Party - May 7
Race Start - May 8
Prize Giving - May 16
HERMES - POGO 12.50
UK Carbon X Drive Main*
UK Carbon X Drive J1*, J2,
A2*, A3*, A5, FR0*
IRC 1.175; CSA 0.996
Sleeps 8; Races 8-10 crew
*NEW SAILS 2018
Get onboard as Ocean Racers for a true ocean race! The Antigua-Bermuda Race is a new Caribbean classic, and we were lucky enough to participate in the inaugural race last year.
Prepare to be stunned by the competition, as the Antigua Bermuda Race is open to yachts and multihulls with a minimum length of 40ft — making us among the smallest competitors out there.  The Antigua Bermuda Race course is pretty straightforward, with few obstacles between the islands except the big blue Atlantic Ocean. We will start off Fort Charlotte Antigua, leaving Antigua to port and Bermuda to port, and finish off St David's Light Bermuda. The approximate distance is 935 nm, making this the longest offshore race in the Caribbean.
Anticipate easterly or south-easterly winds for the first half of the passage, and enjoy some sweet reaching and downwind surfing conditions. But don't expect the whole race to be a breeze, as there are likely light southerly winds in the Horse Latitudes and anything goes as we approach Bermuda.
This race is unique in that yachts can compete in both IRC and CSA, a cruising class that allows for motoring with minor penalty. Due to the infamous Bermuda high, it is almost guaranteed that the crew will ultimately encounter wind holes and a strategic decision will be made whether to stay in IRC or turn on the engine to go for a podium in CSA. Either way, expect this race to be filled with all sorts of fun challenges!
The race starts officially on May 9 in Antigua, and prize giving in Bermuda will be hosted on Thursday, May 17. Crew are permitted to stay onboard until the day after prize giving, and enjoy relaxing in Bermuda with Hermes as a home base.
This race is suitable for those with prior racing and/or offshore sailing experience. Those without racing or offshore experience are recommended to join one of our cruises instead or arrange earlier training in the Caribbean.
Crew
Alumni & Early Bird (Expires March 15, 2019)
All Inclusive - Docking/Fees/Food when Racing & Training
Crew
All Inclusive - Docking/Fees/Food when Racing & Training