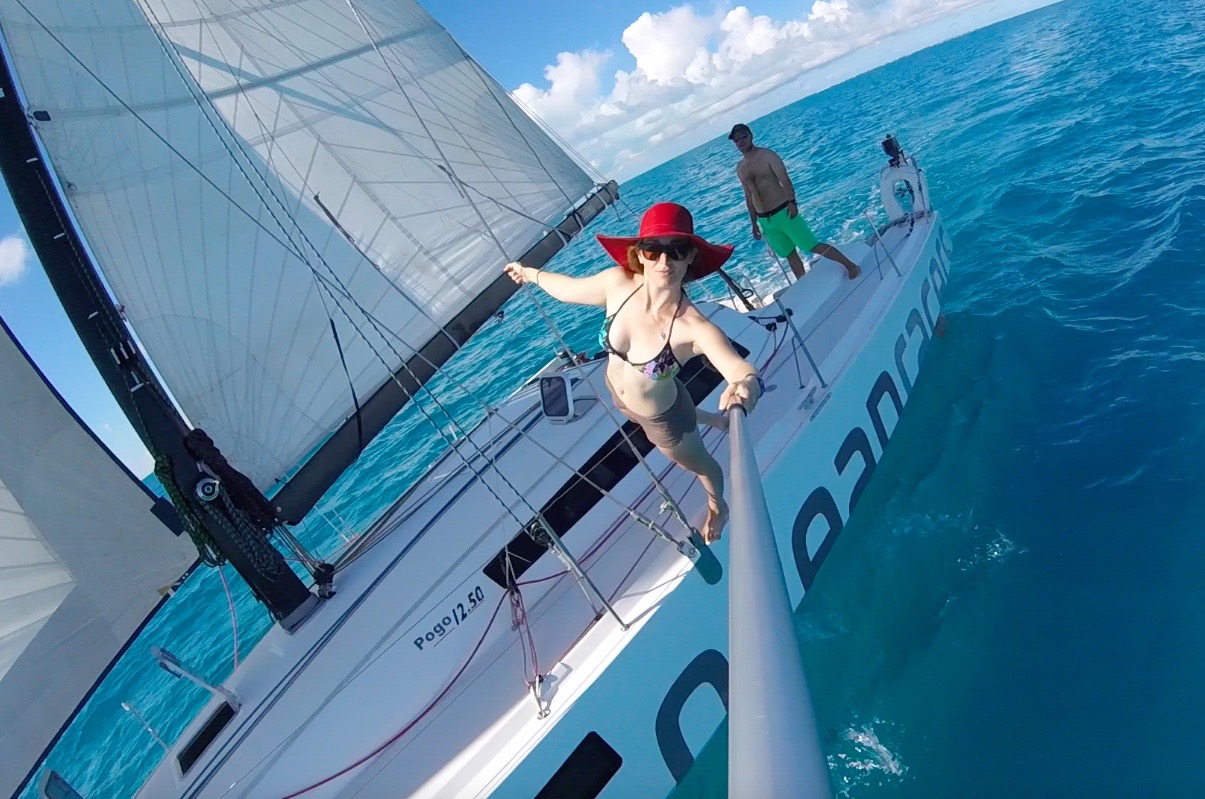 Just one year ago we packed up our lives and headed to Greece to take possession of our new boat, Hermes. Our lives were filled with hope and excitement as we were just beginning a new journey for Ocean Racers.
One of my earliest memories onboard was unfortunately the US election. As I prepared to go full live-aboard and close up my life in America, the one errand I would not forego was submitting my absentee ballot — so I could have a say in the America I wanted to one day return to.
As I watched election results Day 2 living on Hermes, my hope quickly slipped to despair. I wept for my country. I wept for my friends and family still there. I wept for our global future. And I probably wept for the fact that when Morgen would inevitably claim that Canada was better than America, I no longer had grounds to stand on.
So I could have been looking back on one year with HER, which I actually would have been quite happy about. But instead I am reminiscing over just one year with Hermes and coming to terms with a world under HIM.
Ironically enough boat ownership has taught me a lot about handling situations outside of our control and how, despite political turmoil and uncertain futures, the world still turns and our perspective means everything. So here's what I've learned after a year with HERMES:
Acceptance
Nothing went as planned. This/that wasn't supposed to happen. Most things won't go exactly as planned because we are all affected by our environment, whether physical or theoretical, and it's something we can't control. First, we have to accept that. Just because I wanted the world to come together in a certain way doesn't mean it will, and I have to accept and deal with that.
Our first few months with Hermes were frustrating to say the least. We had endless engine issues and a water problem that plagued us for months. The boat we dreamt about owning was now the biggest pain in the ass and we occasionally teetered on regret. But despite a lot of changes to our plans, we accepted the situation at hand and dealt with it. A year later, I can say everything eventually turned out just fine.
Accountability
Most of us live life too passively. We let things happen to us, just like the 2016 US Presidential election. I personally sat mostly silent during the election process, seeing and reading unnerving social and political foreshadowing without saying much to the contrary. My newsfeed was filled with macro-problems, none of which I thought I had the means or rights to tackle.
On Hermes, we live in a world of micro-problems. Each one just concerns the few of us onboard, but these problems can sometimes completely alter our course — or threaten to — and it is our responsibility to immediately solve them. As a boat owner and co-skipper, being accountable and taking action is essential to the survival of our program. Sometimes we don't have control of our problems, but we are responsible for how we react to them.
Action
You can only reach the goals you are after if you take action. Sometimes just a vote isn't enough. And sometimes you have to change your goals. All our plans of sailing around the world again were destroyed when we were stuck in Gran Canaria with water and engine issues that kept us an ocean away from the World Rally start line. So as we sat in the Canaries over the holidays last year, we completely changed our plans and rewrote a new 2017 just as it began.
We didn't let circumstances keep us from moving forward, we just changed our course. Easier said than done, but it can be done. You can always move forward, and it's okay if it's in a different direction. As long as you take action, you'll get there.
Appreciation
This is the most important takeaway. No matter what our "first-world" problems are, we still have it good. Really good. Only those who travel can really understand this. Every new country/island we sail to, we find people who are less privileged than us. But this does not make them unhappy; if they appreciate what they have, they can be just as happy or even happier.
This really boils down to understanding the difference between wants and needs. Needs for humans are very simple: food, water, shelter. Wants are a different story. If you can properly divide wants and needs, if you can shift your perspective, happiness is easy to attain.
So whether our problems are macro or micro, if we accept the situation, take action and accountability, and appreciate the results no matter what, we can all end up in the right place.
Here's to another year of adventures!